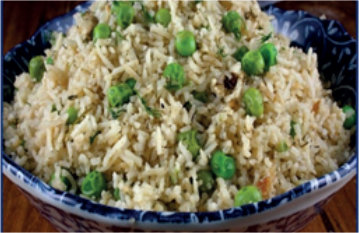 Rice with Peas and Dill
Ingredients List
1 ½ Pack of Americana Peas
2 ½ Cup of Basmati Rice
4 Tablespoons of Vegetable Oil
1 Big Onion " Chopped"
2 Lemons
½ Teaspoon of Saffron
1½ Cup of Dill "Chopped"
3 Cubes of Chicken Broth
1 Tablespoon of Cardamom
4 ½ Cup of Water
Preparation
1

Wash the rice well, then left to dry.

2

Heat the oil in a medium pot on medium fire, add to it the chopped onion and stir it for 2 minutes.

3

Add the peas, dill, saffron, cardamom and cups of chicken broth to and stir all ingredients all together.

4

Cut the lemons to 2 halves and add to the ingredients and stir while on fire for a few minutes.

5

Add the rice to the ingredients and stir for one minute then add water and stir the the ingredients well.

6

Cover the pot, and leave it on a fire until the water is boiled, then lower the fire and leave it the ingredients be cooked for 20 minutes.

7

Take the rice off the fire, and put it in the serving dish, and served with steaks or fish.
Similar Recipes
Cauliflower Souffle
Vine Leaves Salad